Five Gems In BC's Shuswap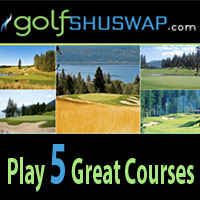 The Shuswap region in BC's Interior has long been known as one of Canada's favourite recreational playgrounds.

And when Talking Rock and Canoe Creek opened, joining the well regarded Salmon Arm, Hyde Mountain and Shuswap Lake Estates courses, the Shuswap became a true golf destination with five "must-plays". Now in 2012, under the Golf Shuswap banner they are offering some great values...
The regional championship courses have formed the Golf Shuswap consortium that allows golfers one-click access to play any or all of these great layouts.
Under the management of Ross Marrington, who operates one of BC's top golf tour companies, GolfShuswap.com can assist golfers with new golf experiences through Stay and Play packages.

Travelers may visit www.GolfShuswap.com for detailed golf course profiles and sample golf vacation packages.
An online request form is available to obtain custom package pricing, enabling travelers to plan from the comfort of their homes. Toll free services are also available at 1-877-223-7226.
""My role is to respond to golf vacation inquiries," confirms Marrington, who is well known in Western Canadian golf circles through his numerous web-based golf and travel projects.
"Should your group need assistance with a Shuswap Stay and Play package, please do not hesitate to call us at 1-877-223-7226."
One of the best things about the group of courses that make up Golf Shuswap is how well they complement each other, providing five unique golf experiences...

CANOE CREEK
The Canoe Creek Golf Course in Salmon Arm offers a traditional look with a modern approach.

More than 7,000 yards of rolling fields, grass-faced bunkers, immaculate greens and striking water features combine to make up a course reminiscent of those in the British Isles.

The Dave Barr-design allows you to hit driver off the tee in some situations, while a more conservative club selection is required in others. Avoiding the many pot bunkers scattered strategically throughout the golf course is always a good idea.

Barr's Bistro offers the golfer superb hospitality on the patio or indoors, as well as providing delivery on the course. The Pro Shop carries a full range of golf apparel and equipment, and the Teaching Centre and expanded practice areas invite you to improve your game.

Just by registering in the Canoe Creek eClub, you will receive a free green fee on your birthday. This offer is valid one week prior to and one week after your birthday. Off season birthdays may play any time in the month of May!

Visit www.canoecreekgolf.com

HYDE MOUNTAIN
Three kilometers off of the Trans Canada Highway in Sicamous, and designed by Les Furber, Hyde Mountain features dramatic elevation changes and phenomenal lake views, cliffside golf shots, and more than the occasional photo opportunity.
Hyde Mountain has several feature holes but "Geronimo", the number 4 hole has an elevation drop from the tee of some 140 feet to the landing area.

They also offer a special unique service for marine vacationers.

Located on the west shores of Mara Lake, their dock is available to golfers and boaters alike. If you come by houseboat, you can moor your boat on the shoreline beside the dock and enjoy the best of both worlds.

You can then take advantage of complementary shuttle service up to the clubhouse and Loggers Restaurant and Lounge.

A visit to Loggers comes complete with a view from the outdoor patio out over beautiful Mara Lake.

Included for use before your round is a full length driving range with a multitude of targets as well as a 10,000 square foot practice putting and chipping green.

Visit www.hydemountain.com

SALMON ARM

The Salmon Arm Golf Club, established in 1928, is the venerable statesman of the Golf Shuswap courses.
Memberships then were $10.00 and playing dues were $6.00 for the season and still today, Salmon Arm has to be considered one of the best values in BC golf.

The dramatic backdrop of Mount Ida, a now extinct volcano, is the stunning natural feature that inspired renowned golf course architect Les Furber to design the award-winning Salmon Arm Golf Club. The immaculate tees, fairways, and greens of this championship 18-hole course meander along the mountainside, sculpted amid towering fir and pine trees.

The Club continues to honor its heritage by maintaining its commitment to combining the simple enjoyment of a memorable golf experience with pioneer hospitality in a visually stunning setting. Unspoiled by development, the Salmon Arm Golf Club continues to offer nearly seamless integration with the undisturbed coniferous forest of the Salmon Valley.

Visit www.salmonarmgolf.com

SHUSWAP LAKE ESTATES
For those looking for a good golf course and maybe a lot more, the 1200 acre Shuswap Lake Estates in Blind Bay right at the water's edge may be the answer.

Family owned and operated golf course, the first nine here opened in 1977. An additional 9 holes followed in 1993 making Shuswap Lake Estates a demanding 6467 yard, par 71 course that recently played host to the B.C. Junior Girls Championship. Efforts over that past few years have made their large putting surfaces some of the slickest and truest in the region.

Aside from golf, there are a host of other amenities that attract visitors and those in search of more permanent residence. Tennis, community center, marina, sandy beaches and even a grass landing strip are also yours to use and enjoy.

For golf course living lakeside, Shuswap Lake Estates offers residential Lots with no set time to begin construction and your golf initiation waived with purchase of any property from them. Views of scenic Shuswap Lake, Copper Island and the surrounding mountains matched with spectacular summers and mild winters make Shuswap Lake Estates a great place to live and play.
Fully serviced properties with panoramic lake views are avaiable here in an area they call "The British Properties of the Shuswap".
Visit www.shuswaplakeestates.com

TALKING ROCK
Talking Rock Golf at Quaaout Resort, the pride of the Little Shuswap Indian Band, is situated on the east shorelines of the Little Shuswap, across the lake from the community of Chase.
The name "Talking Rock" was selected by the Band in recognition of their ancestors who often recorded historic events and legends by painting or carving on large rocks, know as pictographs.
Meandering through a mature sandy forest, the 7129 yard, par 72 layout finishes with a breathtaking 18th hole along the shorelines of Little Shuswap Lake.
The course was designed by Cooke Carleton International.
Little alteration of the land was required thus creating a course of natural and rugged character that requires strategy and thought for players of all skills and abilities. Quickly becoming a favorite course amongst locals, this shot maker's track offers forgiving shaped bluegrass fairways designed to evoke a sense of being alone with nature while offering spectacular views of Little Shuswap Lake.
"It's a dynamic property with some very interesting holes and great views across Little Shuswap Lake," said Graham Cooke.
"Golfers will notice a nice transition from the front nine to the back, from lower lands to the higher, powerful properties on the back nine. There are a lots of pine trees on the property as well. It's a very sandy-based property as well and that's enabled us to produce some rugged bunkers. We've had to maintain a very formal relationship with the trees. We think we've come up with an attractive look and we like the routing plan."
The number of tee boxes (four) makes Talking Rock an ideal course for new players looking to experience a longer course with their seasoned playing partners.
A 16-acre, double-ended golf academy completes this resort experience for golfers of all skills and abilities.
The recently renovated Quaaout Resort and Conference Center is the hotel component at the resort which includes 62 lake view guestrooms, 6 Jacuzzi suites, a presidential and bridal suite.
Guests can now be treated to an experience that is rich in Native history, culture and tradition, all set amidst an abundance of natural beauty. The resort also offers a menu which honor the 1st Nations traditions of the region. Patrons at Jack Sam's Restaurant can enjoy such delicacies as Venison, Cedar Board Salmon Steak, buffalo ragout and our traditional "chicken or Salmon" in Clay.
Visit www.talkingrock.ca

GOLF SHUSWAP
Facilities:
● Salmon Arm Golf Club
● Talking Rock Resort and Quaaout Lodge
● Canoe Creek Golf Course
● Hyde Mountain Golf Course
● Shuswap Lake Estates Golf & Country Club
Approximate Traveling Distances to the Shuswap Region:
● from Vancouver: 250 miles / 415 km
● from Calgary: 290 miles / 480 km
● from Edmonton: 515 miles / 860 km
● from Seattle: 310 miles / 520 km
● from Kelowna: 65 miles / 105 km
● from Spokane: 350 miles / 565 km

For further information visit www.GolfShuswap.com